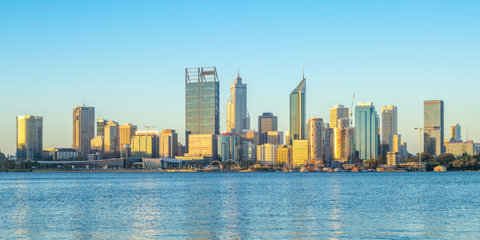 Perth Office Market Overview
July 2018
Perth's CBD office market is showing signs of recovery after more than five years of economic downturn and large increases in supply resulting in high office vacancy rates, high incentives and a drop of more than 50% in effective rents.
The latest office data from the Property Council of Australia (PCA) states that there was an increase in office supply in the CBD during the 12 months to July 2018 of only 108 square metres.
The PCA also report that vacancy rates have decreased from 19.8% in January 2018 to 19.4% in July 2018, the lowest level in three years.
The only new space due to come online this year is Woodside's 48,484 square metre new headquarters, at 98 Mounts Bay Road.
The mining industry is showing some signs of recovery with several new projects starting in the state.
National Australia Bank, in their Commercial Property Survey - Q2 2018, report that confidence in the office market is still in negative territory in Western Australia, with a return to positive in the next 12 months.
Confidence in the market has translated into transactional activity in the first half of 2018, with around $250 million of sales reported in the CBD.
Recovery, however, is expected to be slow. It will take some time for excess supply to be absorbed.
Property Valuations & Advisory (WA) is an independent provider of quality valuation and advisory services. PVA(WA) has a wide range of specialisations including: Commercial, retail and industrial; residential development including land subdivision and apartments; prestige residential; aged care; retirement living; medical; education; tourism and licensed premises; wineries and vineyards.
For further details please contact:
Gavin Chapman - Managing Director
gavin.chapman@pvawa.com.au
08 6500 3600
Property Valuation & Advisory (WA)
Unit 2, 168 Stirling Highway, Nedlands WA 6009
Follow Us