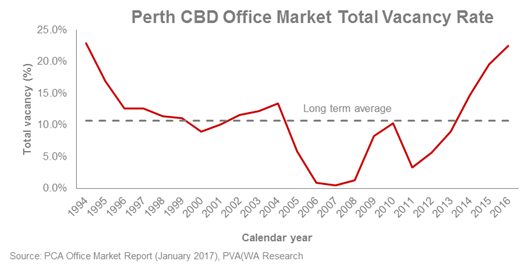 Perth CBD Office - Market Indicators
| | January 2017 | June 2016 | Increase |
| --- | --- | --- | --- |
| Total Stock(m2) | 1,767,769 | 1,768,137 | -368 |
| Prime | 1,081,386 | 1,082,486 | -1,100 |
| Secondary | 686,383 | 685,651 | 732 |
| Total Vacancy | 22.5% | 21.8% | +0.7% pts |
| Prime | 19.1% | 18.8% | +0.3% pts |
| Secondary | 27.8% | 26.4% | +1.4% pts |
Source: PCA OMR January 2017
On the back of large new supply stock over the last two years, coupled with a softening economy in Western Australia, vacancies have reached their highest levels in more than 20 years (22.5%).
We expect vacancies to stabilise this year with no new stock expected to enter the market in 2017. Construction is underway on the new Woodside headquarters at 98 Mounts Bay Road (the old Emu Brewery site), where 48,484 square metre of office space is due to be completed in 2018.
Perth CBD Rental Indicator - March 2017 quarter
| | Premium | A-grade | B-grade |
| --- | --- | --- | --- |
| Net Face Rent ($/m2) | 600 – 700 | 525 – 650 | 350 – 500 |
| Outgoings ($/m2) | 150 – 180 | 150 – 170 | 155 – 175 |
| Net Incentives (%) | 35 – 50 | 35 – 50 | 40 – 55 |
Source: PVA (WA) Research
The market is characterised by softening in both face and effective rents. Incentives remain high but appear to have peaked.
We expect incentives to start falling but to remain higher than average while softness prevails in the resources sector. Along with falling incentives we expect to see owners reduce their expectations for face rents. In consequence we expect that gross effective rents will decline in the short term, and are likely to stabilise in the medium term as incentives normalise.
PVA (WA) identified 10 sales (greater than $5 million) of office buildings in the Perth CBD during 2016, totalling almost $690 million, the largest value of transactions since 2013. There have been no transactions to date 2017.
240 St Georges Terrace has recently been withdrawn from sale. The owner, Dexus, believes that it will derived more value from a major upgrade to the building. The intention is to introduce smart building initiatives, new end of trip facilities, expanded food and retail options and a childcare facility. Woodside, the major tenant of the building, will be relocating to its new premises in the middle of 2018, while still paying rent until the end of the year.
According to a recent commercial property survey conducted by the National Australia Bank, sentiment in commercial property in Western Australia remains negative, but has started to improve. Office capital values are expected to continue to decline over the next two years, albeit at a lesser rate. Rentals are expected to continue to fall over the next two years, while vacancies will remain at current levels.
For further details please contact:
Gavin Chapman - Managing Director
gavin.chapman@pvawa.com.au
(08) 6500 3600
Property Valuation & Advisory (WA)
Unit 2, 168 Stirling Highway, Nedlands WA 6009
Follow Us